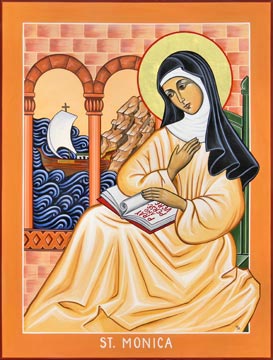 Peace be with you!
God has blessed us in so many ways, it is often easy to forget His blessings. It is often easy to focus only on the bad things in life.
Today, let's thank God for all His blessings in our lives!
Here are the prayers for today:
Dear Saint Monica, you were once the mournful mother of a prodigal son. Your faithfulness to prayer brought you and your son so close to God that you are now with him in eternity. By your intercession and God's grace, your son St. Augustine became a great and venerable Saint of the Church. Please take my request to God with the same fervor and persistence with which you prayed for your own son.
(Mention your intentions here)
With your needs, worries and anxieties, you threw yourself on the mercy and providence of God. Through sorrow and pain, you constantly devoted yourself to God. Pray for me that I might join you in such a deep faith in God's goodness and mercy.
Above all, dear Saint Monica, pray for me that I may, like your son, turn from my sin and become a great saint for the glory of God.
Amen.
SHARE THIS NOVENA
Thank you so much for praying this novena!
If your prayers were answered, click here to leave a comment and let us know!
We're praying for you!
God Bless You,
If these novena emails have been helpful to you please make a small donation to keep this prayer service running here.
55 Park Ave, Dayton, OH 45419, USA