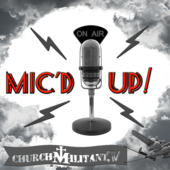 Dear Friend in Christ,

Is the earth the center of the universe? The most up to date deep space evidence is raising this question, again. Please watch this Vortex episode and pass it to your family and friends.

To tune into our Mic'D Up program at 8PM Eastern on Wednesday 8th January where our guests are the producers of the exciting new movie "The Principle" which talks about geocentrism, or to call in to ask questions, click here.
GOD Bless you and your loved ones,
Michael Voris
~senior executive producer at ChurchMilitant.TV
For information on ChurchMilitant.TV speaking engagements, visit this webpage

No audio on the video? Click here for a solution.